Checking your internet speed and disconnecting your Wi-Fi are two things you can do to troubleshoot internet issues. We go over both steps below.

Check Speed:
AWL requires fast, consistent internet speeds. The bare minimum requirements are 15mbps download and 1mbps upload speed. These minimum speeds are not ideal and sometimes cause issues. A decent internet speed is 50mbps download / 10mbps upload or higher.
Open Google Chrome, go to speedtest.net, and hit GO.
Make sure you're getting the required speeds or higher.
If you aren't getting the required speed or getting slower speeds than usual (Most providers we allow generally give you at least 50mbps download / 10mbps upload) reboot your modem/router by turning them off for 30 seconds. A temporary glitch may be causing slowdowns. If that doesn't help, call your ISP (Internet Service Provider).
How to Disconnect Wi-fi:
Sometimes Wi-fi will interfere with your Ethernet connection. If you are having internet issues or it seems like your connection is dropping, try turning off Wi-fi and see if that solves the issue.
Left click the Wi-fi icon.

Select your wireless network and disconnect from it.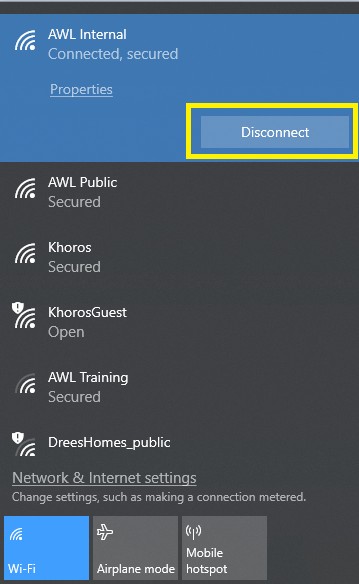 If disconnecting from your Wi-Fi network causes you to no longer have Internet access, try unplugging your Ethernet cable, plugging it back in and connecting again via Ethernet. If this does not work try resetting your modem and router by turning them off for 30 seconds.